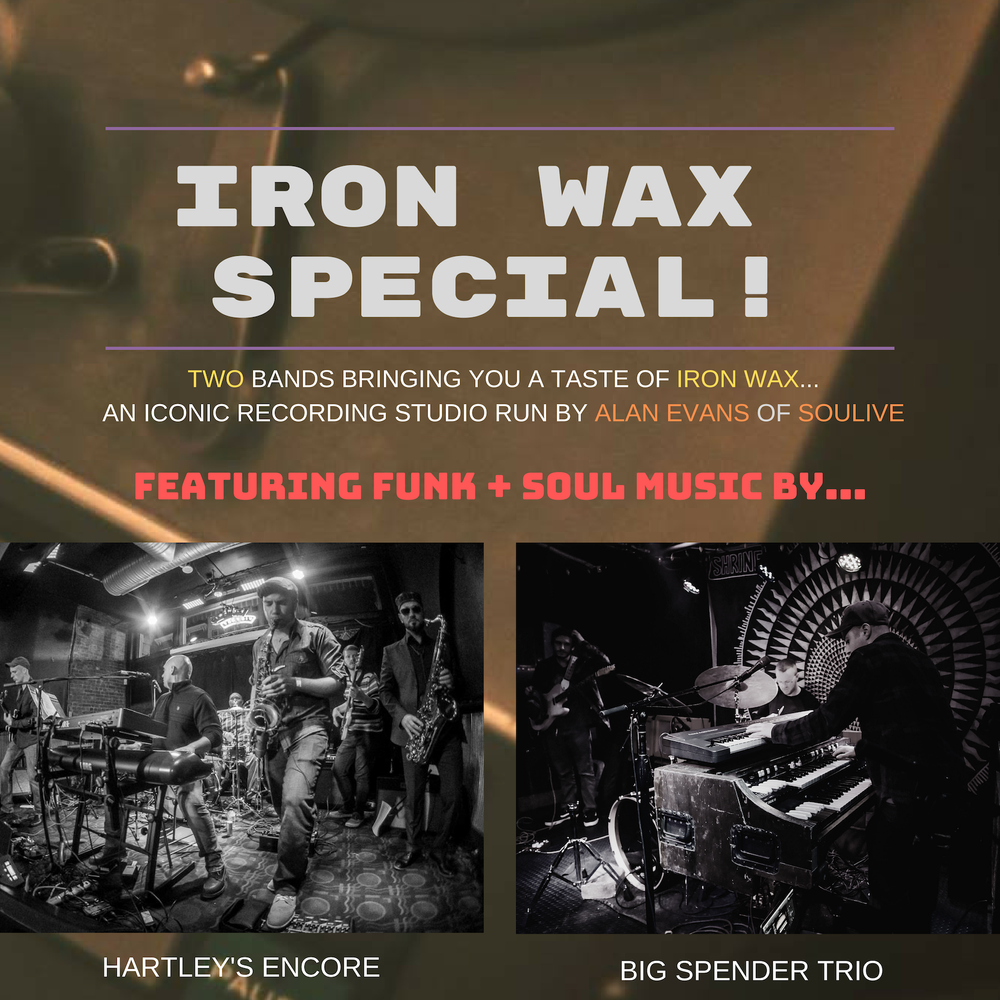 IRON WAX SPECIAL!
Special collaboration show honoring iron wax studios run by alan evans of soulive
HARTLEY'S ENCORE + BIG SPENDER TRIO present....
The Bowery Electric
Friday, January 11, 2018 |
327 Bowery, New York, NY
$10 tickets available at www.theboweryelectric.com
THE SPARK - began for both bands with a deep love for funk, soul and groove based music. It is something that runs through our veins. There is always a song running in our minds keeping us going and shuffling to something different along with life's changes.
BOTH BANDS - have had the pleasure of recording albums with the main man Alan Evans, a producer, recording engineer, multi-instrumentalist, but best known for his work as the drummer for Soulive. Speaking on behalf of both groups, we have loved every minute of the experience and would recommend the studio to anyone looking for an amazing sounding studio and unbeatable experience. It's truly a special thing when you can end up with the desired sound you have been hearing in your head leading up to the session. The guitar, drums, organ, brass and bass tones came out with a special sound aesthetic which has helped define our sounds and makes the recordings exciting to listen to over and over again. With the tools Alan has available at Iron Wax, we believe this concept is achievable for any type of music that rolls through this studio. As musicians, this is the most exciting possibility that can exist. It's really up to you!
THE STUDIO - is an open and comfortable layout which allows creativity to flow without barriers. Everyone in the room is involved in the process. No walls, no glass, no roadblocks. Just you, your music and the inspiration of this special studio environment.
NOT ONLY - does Iron Wax have some of the most inspirational and professional equipment to get amazing tones and sounds, but Alan's approach to recording is a serious game changer!! His positive, anything is possible, can-do attitude and overall vibe cannot be beat and is the reason we are so excited to play a show honoring what he has helped us create. He gets on your level to respect your music for what you bring to the table and only raises it higher for you in so many ways. We are hanging on every next hit, note and word each time we do a take. This has created some seriously exciting moments and amazing memories to look back on!!
THE SKY - is the limit for sounds and creativity when we walk into Iron Wax. That is one of the greatest feelings we can have as musicians since we are in search of finding new ways to bring our musical vision into the world for the enjoyment and inspiration of others.
ALAN EVANS -  has worked with many of the best in the business as an artist, recording engineer, mixing engineer and producer which brings a special level of expertise and vibe to the table. He will let you record your album whatever way you desire, but will also offer snippets of know-how that usually flip the game upside down in a crazy way... It's an amazing feeling when you are able to receive input like this in the studio from someone who really understands what the song needs. We can go on and on...
BUT, THE BEST WAY - for you to see how well this studio is run and get an idea of what we are talking about, is to ROLL OUT and check out the music that all originated in this studio this Friday 1/11 at The Bowery Electric! $10 tickets are available at www.theboweryelectric.com. You can't go wrong with this one, people!!
IN THE MEANTIME - Check the Iron Wax website for a head's up on what's been going down at Iron Wax and we hope to see you at this special show!!